There are no more items in your cart
Shipping

Free

Total

$0.00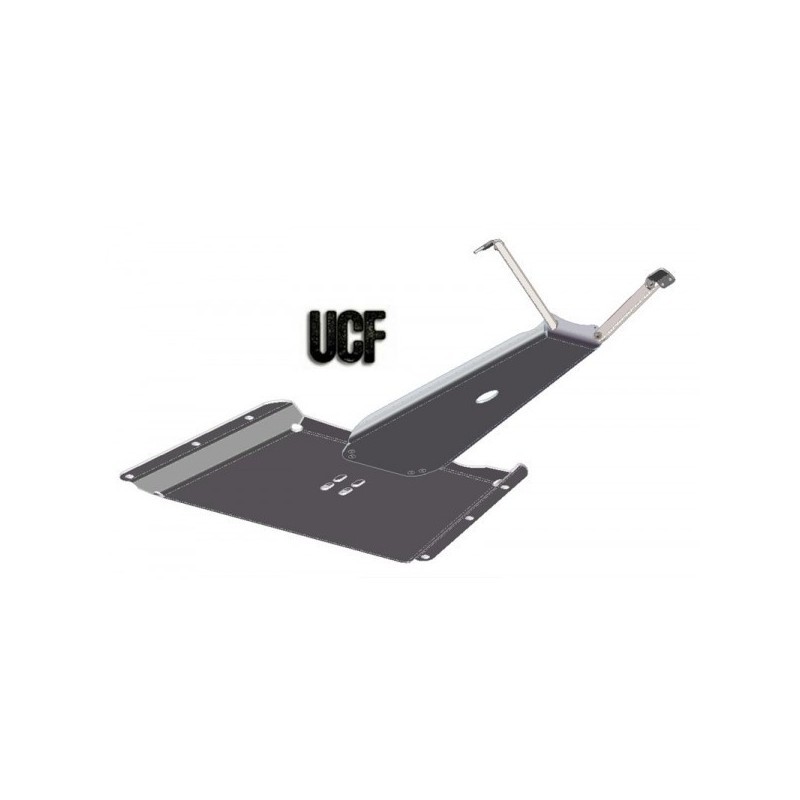  
UCF Deep-Cover Skid Plate System
619620083890
UCF's custom-configurable system to provide full under-belly coverage
Shipping Weight&nbsp98.0 lbs
UCF Deep-Cover Skid Plate System
Our Deep-Cover Skid Plate System is the only custom configurable skid plate system on the market.  It provides the flexibility of design to allow for the wheeler with a modest budget to protect the most vulnerable of locations on the vehicle.  It will also provide the options desired by the most hard-core of rock crawlers to purchase the strongest, thickest undercarriage protection available on the market.
Please see our product listings for Novak Cable Shifters below.
Non-Rubicon Model (NP-231):  Click Here
Rubicon Model (NV-241OR):  Click Here
Please see our product listings for JKS Body Lifts and Motor Mount Lifts below.
JKS B1 Body-Lift:  Click Here
JKS 1" Budget Motor-Mount Lift:  Click Here
(Option A)
We offer Deep-Cover protection for Jeep Wranglers from 1987-2006.  These model years can be broken into 3 distinct eras.
The YJ skids are intended for 1987-1995 model Wranglers.
The EARLY TJ skids are designed for 1997-2002 model Wrangler TJs.
The LATE TJ skids are made for 2003-2006 model Wrangler TJs and LJs. 
(Option B)
Our Transfer Case Skid Plates have been very popular in the Jeeping community for a while now.  They are widely regarded as the best value on the market.
UCF offers transfer case skid is both carbon steel and 6061-T651 aluminum hard plate.  Steel skids can be ordered either 3/16" or 1/4" thick.  Aluminum skids can be ordered 1/4" or 3/8" thick.  The 3/16" steel skid is equivalent in strength to the 1/4" aluminum skid.  The 1/4" steel skid is equivalent in strength to the 3/8" aluminum skid.
The base model system is configured by default with a 3/16" thick steel (60 lbs) transfer case skid plate.  It can be upgraded to 1/4" thick steel (77 lbs) for $50 extra, 1/4" thick aluminum (27 lbs) for $137 extra, or 3/8" thick aluminum (40 lbs) for $252 over the base model.
(Option C)
The transfer case skids can also be offered in several depths.  They are defines as follows:
No Body-Lift Required- YJ & Late TJ are 3" deep, Early TJ is 2" deep.
Original Extra-Clearance- YJ & Late TJ are 2" deep.
Ultra High-Clearance- All models are 1" deep.
Certain depths necessitate other requisite components such as: Body Lifts, Motor Mount Lifts, LOPRO Transmission Mounts, SYE, aftermarket driveshafts and rear upper control arms, etc.
(More information concerning the features and requirements of our transfer case skid can be found in the in the "Transfer Case Skid Plates" category.)
(Option D)
Another Key component of the system is the Engine Skid Plate.  It serves as the only line of defense for the engine oil pan and transmission pan.  This area of the power-train is extremely vulnerable to damage from big sharp rocks, pointy limbs and other obstacles encountered along the trail. Our Engine Skids are offered in two flavors.
The default option is for the 1/4" thick steel Engine Skid.  It weighs in at 38 lbs with hardware.  The upgrade Engine Skid is crafted from 1/4" 6061-T6 aluminum plate.  It weighs only 16 lbs. with hardware and adds only $52 to the default option price.
We offer Engine Skids for the 2.5 liter 4 cylinder Jeep YJ and the 2.5 liter 4 cylinder EARLY TJ ('97-'02).  We also offer Engine Skids for the 4.0 liter '97-'06 model 6 cylinder Jeep TJ and Jeep LJ (Unlimited).  Other models are under development but are not currently available.
You can learn more about UCF Engine Skid Plates by clicking here:  https://undercoverfab.com/39-engine-skids-
(Option E)
The LOPRO mount is a complete replacement for the factory transmission mount.  It attaches to the transfer case skid and factory adapter bracket.  Our LOPRO Mount is 1" shorter that the part it replaces.  Because of this, the transmission and transfer case are lowered into the skid plate by about 1".  This can go far toward reducing drive-line vibration.  The LOPRO mount is shipped with a rubber bushing.
The UCF LOPRO Mount was designed to fit the '97-'02 Jeep TJ 4.0l with manual and automatic transmissions.  It also works with '03-'06 Jeep TJ and LJ with a manual 5-speed or 6-speed transmission.  It will not work with other model years, engines or transmission models.
It can be used in conjunction with our 1" deep Ultra High-Clearance Transfer Case Skid and a 1.25" Body Lift to obtain the flattest belly on the market.  (The 1997-2002 Wrangler TJs don't require the use of the LOPRO mount when installing the 1" deep Ultra-High Clearance Skid.)
It can also be utilized in conjunction with our other deeper transfer case skids.  It negates the requirement for a body lift when used with our 2" deep Extra-Clearance Skid on the late model TJ.
More information about the LOPRO Mount can be found here:  https://undercoverfab.com/body-and-power-train-mounting/20-ucf-lopro-03-06-tj-lj-trans-mount-.html
(Option F)
You can add an adapter bracket that will allow you to mount a stock Rubicon Locker Pump assembly to the top of the skid plate.  This bracket is formed from 1/8" steel into the shape of a hat.  The flat middle surface mounts to the top of the skid with hardware and mounting holes you must supply and drill.  The factory pump assembly can then bolt to the remaining holes in the factory bracket to locate it up and out of the way.
We recommend relocating your locker pumps under the hood to the tray near the brake booster.  This will ensure that they are safely out of the way for future transmission/transfer case maintenance and service related issues. 
2 other products in the same category:
Reference: UCF102
Brand: Under Cover Fabworks
Space that skid plate down to remove vibrations or temporarily use spacers with a high-clearance skid plate to save money now.